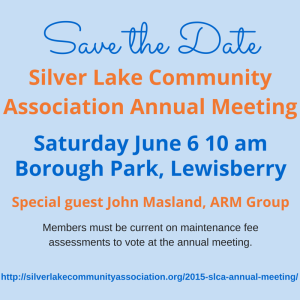 The Silver Lake Community Association's Annual Meeting will be held Saturday, June 6, 2015 at 10 AM. The meeting will be in the pavillion at Borough Park in Lewisberry.
Special Guest
We will have a special guest, John Masland of ARM Group, the SLCA's engineering consultant. Mr. Masland will update and brief the SLCA membership on:
The current status of our earthen dam
The required Wetland's Remediation Study
The general nature of work DEP will require to reinforce our earthen dam
Mr. Masland is happy to answer any questions. In the interests of time, we request that questions be submitted in writing by May 15 so he has opportunity to incorporate these issues into his presentation. Mr. Masland will be available for 45 minutes only, and we want to make this as informative, educational and transparent for SLCA members as possible. Time permitting there will be a brief Q&A after his presentation.
Submit questions to SilverLakeCommunityAssociation@gmail.com.
Please note, members must be current on all maintenance fee assessments at the time of the annual meeting in order to vote on any business before the SLCA.