The Silver Lake Community Association is required to engage a professional engineer to perform annual inspection of the condition of our dams and waterways. On December 9, 2019 our engineers completed the annual inspection report and the SLCA has submitted this to the Pennsylvania Department of Environmental Protection.

The engineers inspection and the $5000 annual filing fee with PA DEP are the largest expenses the SLCA incurs annually, and expenses that are unavoidable.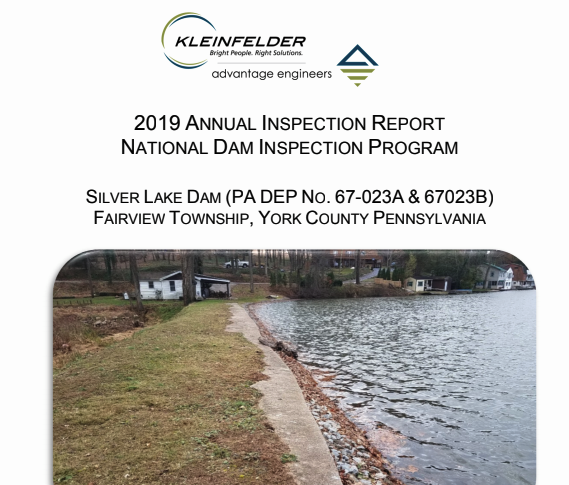 There were no changes noted to the structural integrity of either the earthen dam nor the spillway. Maintenance and repair activities recommended are consistent with instructions received every year – namely we need to address new animal burrows, remove a stump from the back face of the earthen dam from a young tree that was felled several years before, and upon next drawdown perform caulking and patching to the concrete spillway.
New Steps
Several SLCA board members and our engineer met with PA DEP in 2019 to discuss next steps. It was decided that a survey was required to determine the water volume of Silver Lake, which in turn will inform the needed engineering of upgrades to our earthen dam. SLCA was provided a list of qualified surveying firms, and reached out for bids. The survey project was awarded and we expect the surveyors to complete their work before the trees leaf out in the spring.
This is a positive forward step in our 6 year journey since our dam was reclassified and Silver Lake fell under DEP scrutiny.