Surveying Activity: The SLCA commissioned Frederick, Seibert & Associates of Carlisle for a property survey that was performed in the spring of 2020. The purpose of the survey was to confirm boundaries of the SLCA's property, and included surveying of adjacent member owned properties. This was a necessary first step to the preparation of a formal dam rehabilitation plan. Our engineer now has an accurate survey to work from.
Dam rehabilitation: Due to Covid things are moving slowly as DEP staff are working remotely and virtually all in person meetings are indefinitely postponed. We are now waiting for DEP to agree to an onsite meeting with our engineer to determine the exact scope of the rehabilitation DEP will require before we can proceed with the planning.
SLCA also had to retain a new Engineer in 2020. Our engineering firm (Advantage Engineers) was bought out by a company on the West Coast who does not service HOAs. Mark Giunta from Advantage Engineers graciously recommended a firm in Gettysburg, KPI Technology. Brad Ellenberger and Tom Imblum met with Tim Knoebel of KPI in November and retained his firm to do the annual inspection. The inspection was completed and sent to DEP in December 2020. We will continue to use the firm going forward for our rehabilitation of the dams.
Civil Hearings: We want everyone to know that we are diligently pursuing property owners that have not been paying their maintenance fees.
1) A SLCA member filed a Civil Complaint against the SLCA. They claimed that their unimproved property should not be assessed at the same rate as improved parcels. Essentially state law and legal precedent says that all property owners and each parcel with water frontage or deed-granted access to use and enjoyment of the lake must contribute equally to maintenance. The member demanded that $1,750 to be refunded to them along with court costs. The court dismissed their complaint.
2) We filed 5 Civil Complaints against property owners within the original Silver Lake Colony who were not paying and had arrears over $2000. All 5 property owners responded to defend. All 5 properties have deed-granted right of access and enjoyment of the lake. Four of the hearings have already taken place and Judge Gross ruled in SLCA's favor on each. The claims were because they were not lake front the annual assessments were unfair. Essentially the same principle of equal responsibility for maintenance as above applied. The last hearing is next week.
3) We sent certified letters to the property owners that were added to the billing January, 2020, whom have not paid. Research confirmed that these properties have deed rights to the lake. The next step with them will be filing civil notices.
Bridge Repair on Siddonsburg Rd: Brad Ellenberger took notice that the repair to the bridge was going to involve narrowing the opening under the bridge. This would create more water backing up when we get heavy rains. We reached out to DEP, who advised that the PennDOT permit did not allow a reduction in the opening. DEP has told us that the concrete PennDOT already poured will be removed. Brad has also reached out to a contact at PennDOT. We wanted to let you know why the road is still closed as the project needs some modifications.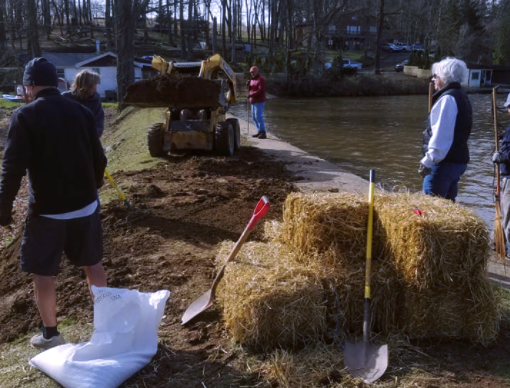 Draw Down: We did all the work recommended by the Engineer and DEP from our inspection in 2019. We had a couple work parties and some good turnouts of volunteers. Earthen dam: filled animal burrows, removed tree stumps and filled those holes, spread topsoil behind the earthen dam and on the breast along the concrete, planted grass seed and put down straw. Spillway: Repaired the fractured concrete below the spillway and resurfaced the weirs. Also resurfaced around the stoplogs.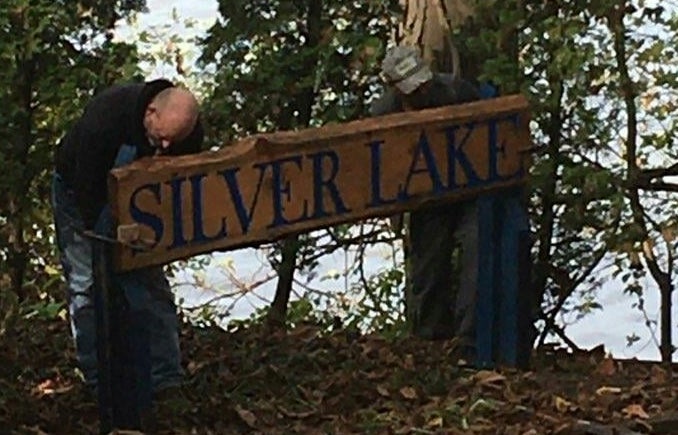 We had a new Silver Lake sign made and some solar lights installed. It looks great! Thank you to everyone that volunteered their time and money.
2021 SLCA Annual Meeting
We will be holding the annual meeting the first Saturday of June. The date is June 5th. It will be at 10:00 AM at the Borough Pavilion in Lewisberry. More info to come. We will practice social distancing and wear masks. Please mark your calendars!
Dredge Committee: Van Hoffman has volunteered to head up a committee to look into dredging parts of the lake. We are all aware this needs to be done. Unfortunately, actual dredging will have to wait until we start the work on the rehabilitation of the dams but we want to be ready. The committee will look into costs and processes. If you are interested in assisting Van please reach out to him. We welcome the people new to the lake to share your thoughts and knowledge!