Silver Lake resident Ken Boyer has been photographing the wildlife of beautiful Silver Lake, Lewisberry PA for decades. Recently, the torrential rainfall from Hurricane Ida damaged our lake's earthen dam, which was constructed by Quaker settlers in 1786!
Consequently, the PA DEP is requiring that our dams be brought up to 21st century engineering standards before we are permitted to allow our lake to return to a full pool of water. Engineering and construction costs will be substantial, and the 65 small homes and cottages that make up our association are challenged to raise the money needed to permanently rehabilitate our dams.
Ken Boyer put together this introduction, inventory of species that use our lake, and a gorgeous Powerpoint Presentation that showcases photographs of these waterfowl and raptors. Links are at the end of this post.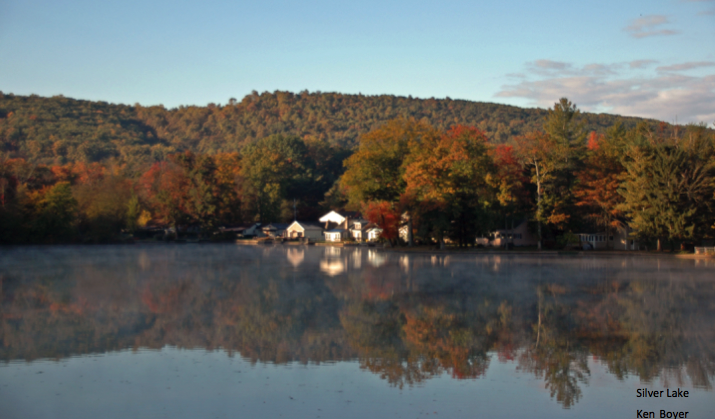 To whom it may concern:
I have lived on Silver Lake since 1975. I immediately fell in love as I noticed the unusual amount of wildlife that visited the lake/lake wetlands/lake wooded areas. Especially noticeable were the number of waterfowl and raptors.
Whitetail Deer, Wild Turkeys, Possums, Raccoons, Skunks, American Minks (a pair have been living here for about 6 – 8 years), a Beaver every so often, River Otters every so often, and many other animals use the lake for varying reasons—drinking water, food sources (such as fish, crustaceans, insects, and vegetation to name a few). The varieties of fish living in the lake that I am aware of are, Crappies, Bluegills, Gizzard Shad, Carp, Catfish, Smallmouth Bass and Largemouth Bass. Largemouth Bass are the biggest population, but every so often you will see Smallmouth.
When Silver Lake freezes during the winter people come from all areas to ice skate and play ice hockey. They are able to access the lake from a small public area on Silver Lake Road. During these times when I look out the window, I feel like I am looking at a Norman Rockwell painting.
Getting back to the waterfowl and raptors, you will see from the list below what I call visitors to Silver Lake. I started this list almost immediately after moving here because I found that there were far too many species visiting and residing at this lake to be a coincidence. Silver Lake is on the migratory path of the Eastern Flyway. I am convinced of this because regarding the Eastern Flyway, in the movie Fly Away Home, (a 1996 movie about a young girl leading mother-less geese in an ultralight plane from Canada to North Carolina), there is a brief scene of a map of Pennsylvania and the route they use – it's directly over Silver Lake!
I used to be a hunter, but in 2005 I put down the guns, picked up a camera and began using my hunting skills in another medium: photography. I wondered how close I could get to these different species of waterfowl and raptors to capture their real beauty? Well, it turns out, with a lot of patience, I could get pretty close at times. My reason for telling you this is that I can back up, with photos taken on Silver Lake, the majority of species on the list of Waterfowl and Raptors that I have provided. If you look in the gallery section of the Silver Lake website, you will see many of these photos.
Over the years, I began sending out emails, to friends, family and anyone interested in the photographs I had taken of nature in action. This has been my way of sharing with everyone the gift that nature has provided to all of us who live on the lake. It gives visitors, residents and others the chance to observe the real habitat of nature and the opportunity to see nature in action.
Silver Lake is one of nature's special places. All of us who live here know this.
By living on Silver Lake, I have observed the different types of waterfowl and raptors that have passed through here on their migratory travels. It has been an education that I value. It is my sincere hope that we can preserve this lake for future generations.
Ken Boyer