The SLCA would like to provide you updates on several matters that impact our members.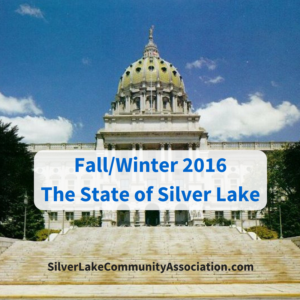 House Bill 1712 An Act establishing the Private Dam Financial Assurance Program and the Private Dam Financial Assurance Fund which showed much support and promise earlier in the 2016 legislative session was referred back to the Appropriations Committee and then re-reported as committed back to the House on October 25, 2016. The bill was not brought up for a vote before the legislature adjourned. We urge all residents to reach out to Representative Sheryl M. Delozier, our Lower Allen Twp state representative and Senator Mike Regan and urge them to throw their support behind this bill.
DEP Annual Inspection: The SLCA's engineer performed the DEP mandated annual inspection of our dam and spillway in November. The report back is encouraging, as we are holding our own and no new major issues were discovered. A special THANK YOU  to all residents who helped this year on the work parties that were instrumental in this effort. As always there were some new maintenance items recommended. We are particularly challenged with animal burrows that jeopardize the integrity of our earthen dam, and must remain vigilant in remediation when found.
Bennett's Run diversion dam project: We received a bid from our engineer, ARM, to do all engineering and permitting with DEP for the project. The quote received is for $6200. However, the board is going back to ARM as the scope of the project had some inconsistencies v. what was requested. We remain on track to go to bid this winter on the project, and to award and have the project completed in the spring/summer 2017.